The new Land Acknowledgement, created by Cardinal Carter's very own Student Council, encourages students to thoughtfully recognize the ancestral lands that Cardinal Carter rests upon. Inspired by the desire to join hands with the First Peoples of Canada, Student Council began deliberately working on this initiative this past November.
After many insightful conversations, enriched by the guidance of Indigenous community partner, Mim Harder, Student Council learned the importance of thinking carefully about the words we use and why we use them. Alongside this, we sought out our closest Indigenous allies, the Chippewas of Georgina Island, and recognized them within the Land Acknowledgement. We wanted to highlight Indigenous culture, by including a final "thank you" in an Indigenous language. However, we then learned through Ms. Harder and other Indigenous voices, that thank you is said differently by the various Nations, and so we decided to add all four variations.
Through all this dedication and hard work, Student Council developed a Land Acknowledgement that profoundly expresses our overall gratitude as a school community towards the First Peoples, for continuing to provide us with the opportunity to learn and grow on these sacred lands. By reading our Land Acknowledgement daily on the morning announcements, we aspire, as a Cardinal Carter community, to move towards an understanding of the richness of culture that the Anishinaabe, the Haudenosaunee, and the Wendat have brought upon us, as newcomers to these lands.
Here is the new land acknowledgment: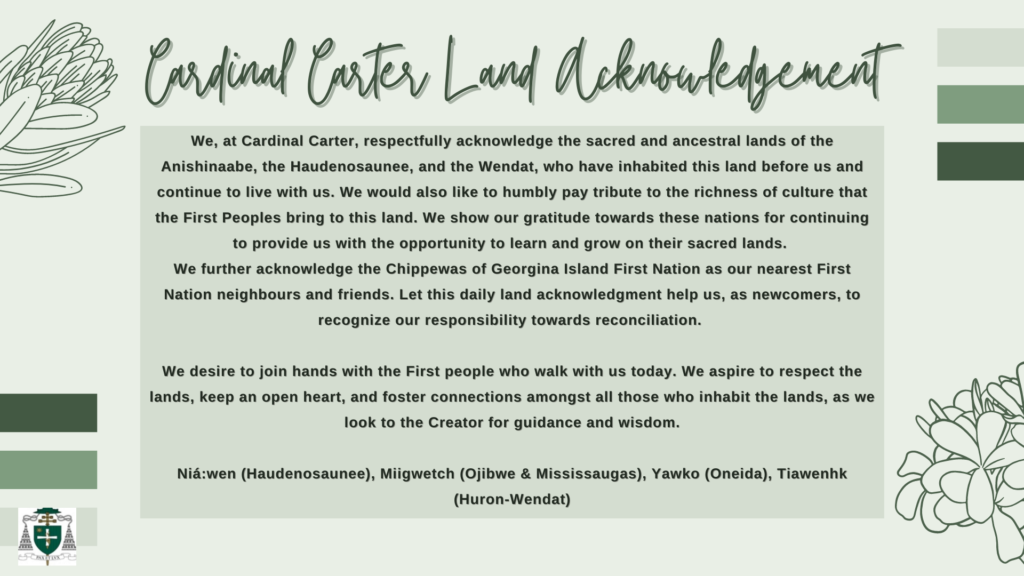 Our Student Council has truly learned a lot from this enlightening experience, and hopes that through spreading this knowledge, each individual will be able to recognize the responsibility towards reconciliation that we, as a school community, collectively share. We are so grateful to Mim Harder for taking the time to lead and guide us.
–Kavi Gupta, Vice President, Student Council