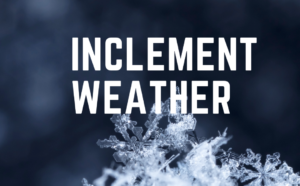 Cancellation of Buses and Inclement Weather
Occasionally, it may be necessary to cancel buses due to inclement weather or other emergency situations. In arriving at this decision, the safety of students will be of prime importance. If road and/ or weather conditions result in a decision to cancel buses, the Information will be conveyed to parents/guardians starting at 6 a.m. Please refer to the following:
• Board Website www.ycdsb.ca
• Board Twitter www.twitter.com/ycdsb
• Student Transportation Services website www.schoolbuscity.com; or
• Your local radio and television station
If buses do not operate in the morning, they will not operate in the afternoon. Therefore, any school excursions planned for that day are also cancelled on days when school buses are cancelled.
 Additional information on Inclement Weather Days:
If school transportation is cancelled due to inclement weather and /or  poor road conditions:
Schools remain open unless otherwise stated
For Parent(s)/Guardian(s) with children in Secondary Schools:
Cafeteria Services at all YCDSB Secondary Schools are closed.
For ALL Parent(s)/Guardian(s):
Please exercise discretion in deciding whether to send your child to school on such days.
The decision to cancel school transportation service is region-wide, meaning all school buses, vans and taxis are not operating.
Schools are open, and parent(s)/guardian(s) can make alternate arrangements to transport their children to and from school.
As school transportation is cancelled in the morning, it will not operate in the afternoon.
Exams, tests, quizzes, excursions, charter trips, school programs, co-curricular activities, evening presentations, workshops, in-services, and parent meetings (i.e Identification, Placement, and Review Committee Meetings, IPRCs) are cancelled for that day and will be rescheduled.
Permits are cancelled for the evening.
Before and After Programs in schools make every effort to remain open in inclement weather. However, the decision to open or to close early is up to the discretion of the Child Care Operator.